Scuba Diving in Cozumel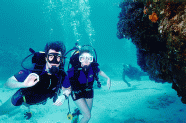 Guess what!? I finally have pictures, and they're excellent! You see, we went to Cozumel recently (March 1996), and this guy named Nacho took pictures of our group, including Joanne and I diving San Cedral Pass.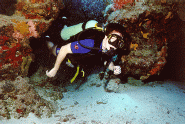 The diving there is totally excellent! We came across two kinds of moray eels (green and spotted), several barracuda (they were surrounding us), a porpoise (swimming really fast!), plus tons and tons of colorful fish and other animal and plant life.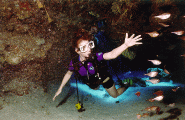 Nacho also got pictures of us swimming out of a tunnel through a giant coral head (sort of an underwater cave)! This was a wild experience! There was one part of the tunnel with a huge school of tiny sparkling fish. It reminded me somehow of disney world - you know, where you ride through a dark tunnel with different things happening on both sides. It's quite unreal to be inside a coral head 55 feet under the sea!

I just started diving this year, and it's definitely a lot of fun! Before Cozumel, my dive experience had been limited to the waters around New England (Rockport, MA to be more specific!). The ocean around here can be fairly murky, but there is a lot of interesting stuff down there, including lobsters, sea urchins, striped bass, hermit crabs, other crabs, starfish, kelp, more kelp, and much more! Blub blub...